Hotel Vista Las Islas
Where island dreams come true
Located on the coast of the Southern part of the Nicoya Peninsula, this operational hotel (since 2011) has impressive views of Tortuga Island and is located just a few minutes away from the Paquera ferry port, yet nestled in a hillside and surrounded by tropical jungle. Hotel Vista Las Islas consists of two separate lots: Lot 52 are the hotel grounds and lot 53 is a great extra piece of land with 4 wooden ranchos, a greenhouse and a fruit plantation.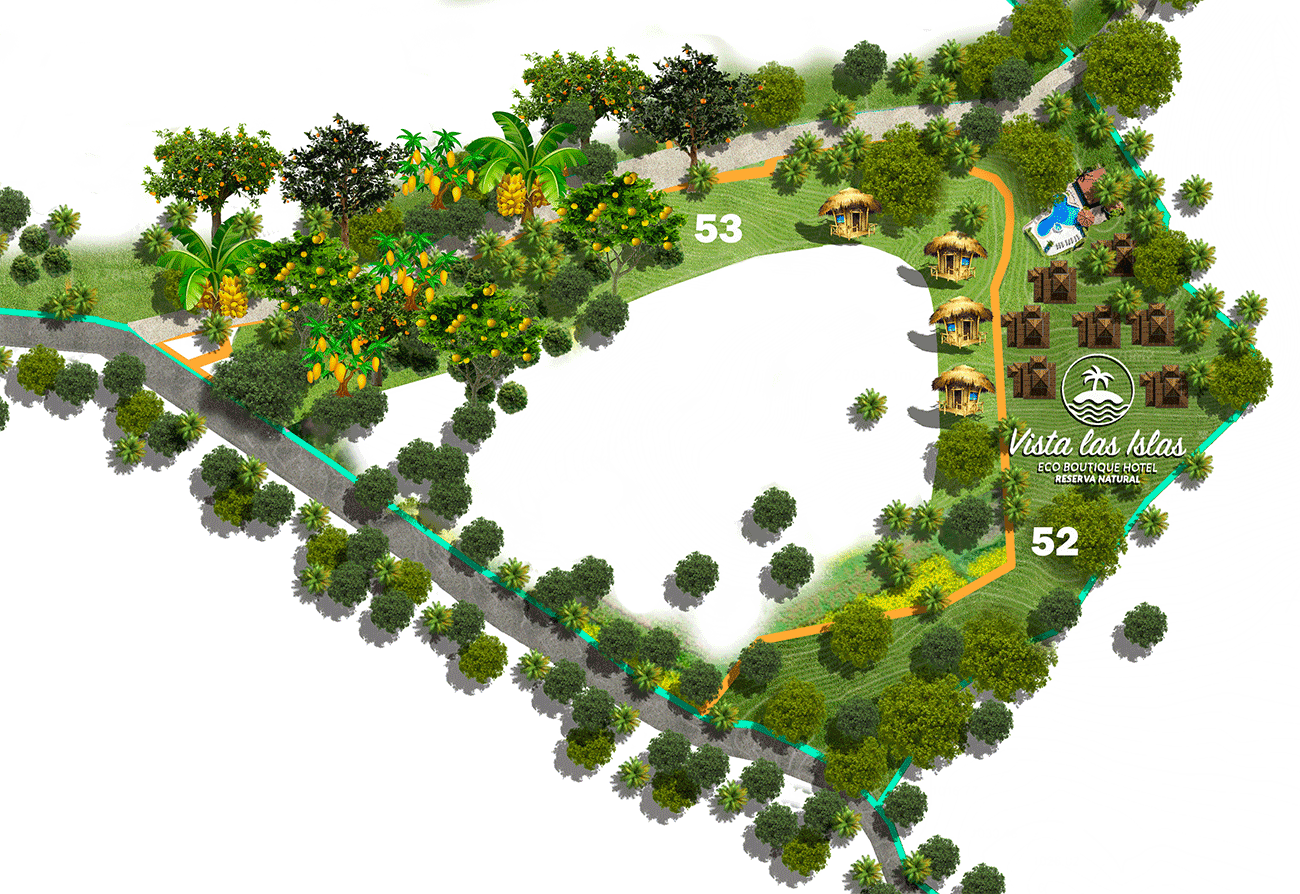 Roll your mouse over your favorite lot, enjoy its view and receive some further details. This feature is only available for lots with a pin marker.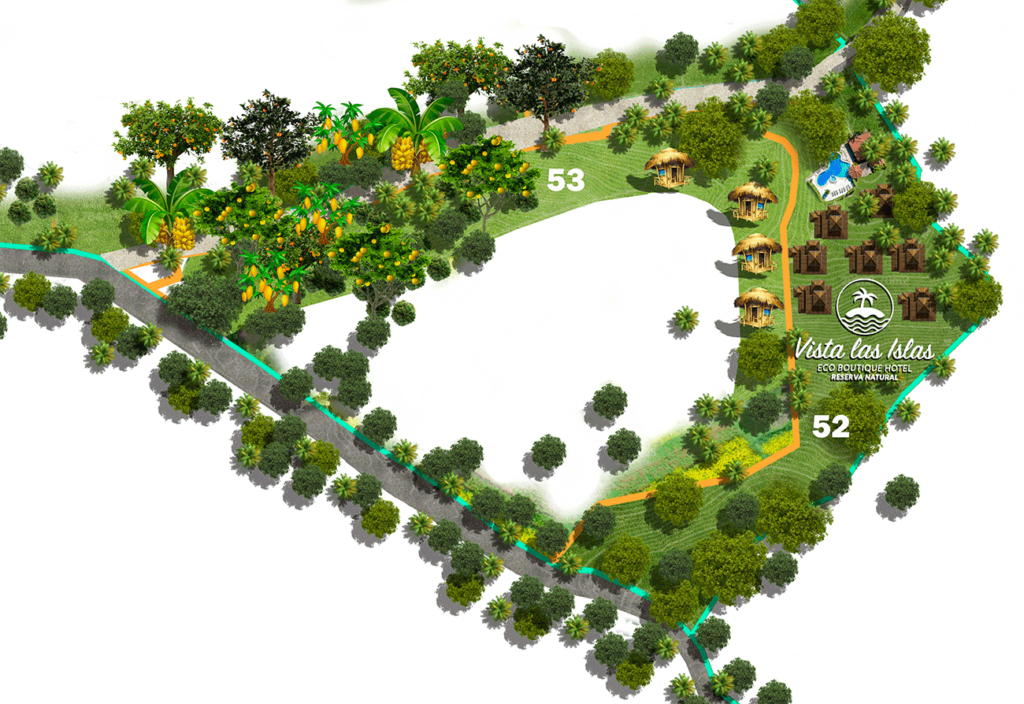 SHORT FACTS LOT 52: HOTEL VISTA LAS ISLAS
---
Sales price: USD 3.4 M
Number of guest rooms:
15 guest rooms with balcony and Ocean and island view
1 apartment with 3 bedrooms, 3 bathrooms, kitchen, living room and balcony with Ocean and island view
1 apartment with 1 bedroom, 1 bathroom, kitchen and private and gated garden with Ocean and island view
---
Total size: 30,043 m2 or 7.4 acres (this includes all construction, trails and lands surrounding the hotel)
---
Construction details:
Earthquake-resistant construction under Swiss Management
Underground electricity and water supply
Subterrain power and water supply
Solar panels (130 m2)
Own purification plant
Own Wi-Fi antenna
Infinity pool
Restaurant site for 45 guests
Pool bar with grill and wood oven for pizza / seated area for 25 guests
Onsite laundry
---
---
Eco Boutique Hotel Vista las Islas is a hotel with special outstanding style, comfort and views. The property lies along the country's beautiful coastline of the Southern Nicoya Peninsula and imposes with breathtaking views of the surrounding islands and the bay of Paquera Beach. Nestled in the tropical mountainside, the hotel is surrounded by lush tropical greenery and offers a spectacular sight of the infamous Tortuga Island from all guest rooms, the restaurant as well as from the infinity pool.
Hotel Vista las Islas has opened its gates on November 2011 and has proved to be successful ever since. It has been ranked very good on every single online rating portal like the well-known websites Tripadvisor, Booking.com and Expedia including several hundreds of comments from guests. Besides various travel agencies we have been very well known in the local tourism as well and welcome besides many visitors from all around the world also frequent guests from the San José's Central Valley region.
When getting off the ferry Vista las Islas is the first hotel that comes to sight. Apart from its great spot, the safe environment on top of a hill, the hotel's location has a lot more to offer: We are close to many famous beaches such as Tortuga Island, Playa Quesera, Playa Blanca and Playa Muertos. Furthermore, we have bioluminescent waters at the shoreline, Curu Wildlife Refuge in close distance to explore and a wonderful and tranquil beach to go for a sunset run.
Vista las Islas is the full package: We have years of experience and a foot in the international as well as the local market, produce our own electricity through solar panels, have our own purification plant installed and we harvest the fruits and vegetables from the hotel grounds that we offer in our own restaurant.
SHORT FACTS LOT 53: RANCHOS AND GREENHOUSE
---
Sales price: USD 495,000
Total size: 10,101 m2
---
Lot 53 features 10'101 m2 of land and borders directly to the grounds of Hotel Vista las Islas (lot 52). This lot can be purchased as an extra to the hotel grounds and includes 4 cozy wooden ranchos as well as a greenhouse and a fruit tree plantation.
---
RANCHOS: The 4 wooden ranchos are the perfect location for private celebrations, massages or yoga classes.
---
GREENHOUSE: On Lot 53 you will also find an organic garden with countless fruit trees and a large greenhouse. Pick your ingredients directly from your own grounds and offer your guests an unforgettable from garden to table experience.